Replacement Slings for Outdoor Patio Furniture
Patio Sling Site is an American company specializing in Slings for Patio Furniture including but not limited to Replacement Slings for Hampton Bay Patio Furniture, Woodard Patio Slings, Martha Stewart Patio Slings, Windward Patio Slings, Brown Jordan Patio Slings, Agio Patio Slings, etc. We manufacture wholesale furniture slings for Home Depot patio furniture and Lowe's patio furniture! **Sunbrella Replacement Slings are now in stock, give us a call/email for free Sunbrella Sling Fabric samples!
Patio Slings | Outdoor Replacement Slings & Repair
Don't throw out a beautiful patio sling furniture collection because the sling fabric is worn out, shop with us and receive top of the line patio sling fabric replacements for any outdoor sling furniture set (by sling furniture collection name or sling measurements) in any of our 126 sling fabrics! We carry replacement furniture patio slings for all major brands including but not limited to Brown Jordan Patio Furniture Slings, Agio Patio Furniture Slings, Lloyd Flanders Patio Furniture Slings, Martha Stewart Patio Furniture Slings, Hampton Bay Outdoor Patio Furniture Slings, Tropitone outdoor Patio Furniture Slings, Woodard Patio Furniture Slings, Samsonite Patio Furniture Slings, Winston Slings and any other outdoor sling furniture collection you many have or don't have the name of.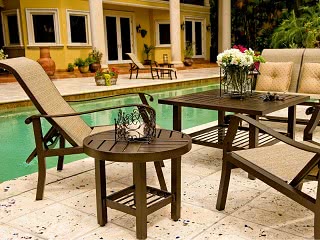 Replacement Slings | Outdoor Sling Furniture Repair | Patio Furniture Slings
Many claim to be the manufacturer when it comes to replacement patio slings, or they may claim to have the best pricing, but doing a little background research on the companies will show that we at the Replacement Patio Sling Store has the lowest prices by 20% and have been truly studying, designing, and selecting the highest quality products, fabrics, materials and employees filling our 100,000 square foot warehouse with 30 years of knowledge in the patio sling furniture business and patio sling furniture repair!
Patio Chair Replacement Slings
We not only guarantee the lowest pricing, but we guarantee the highest quality available to replace patio slings bought at a major retail stores. We make Home Depot replacement patio slings for outdoor patio sling and garden furniture, Lowe's patio slings for outdoor patio furniture, Walmart patio slings,  Sam's Club patio slings, Sears patio furniture slings for outdoor lawn and garden furniture, Kmart slings for lawn and garden outdoor furniture and a handful of other large retailers sling furniture collection replacements. Our sling fabric is known for its durability, texture and quality and is superior compared to big box store slings!
If you have any questions give is a call or stop by our manufacturing plant below!