How-To Measure your Patio Furniture Slings
Measuring your Sling Furniture is the most important part of ordering your Patio Chair Slings.
Replacement Slings require measurements from furniture frames, not your old slings.
Due to the fact that our patio slings are made from direct customer measurement specifications, it is very important to accurately measure your sling furniture before ordering. Below are detailed instructions on how to make these measurements of your outdoor patio sling furniture accurately.
How-To Measure for Replacement Patio Furniture Slings Measurements of your furniture slings should be taken from the spot where the fabric goes into the frame (example below), as the sling (fabric) itself at this point of its life is more than likely worn, stretched and/or ripped, leaving room for error and yielding an inaccurate measurement. The frames of most patio sling furniture are very sturdy and are perfect for measurements but be sure to tighten any bolts/screws and/or anything else holding the spreader bars and frame in place.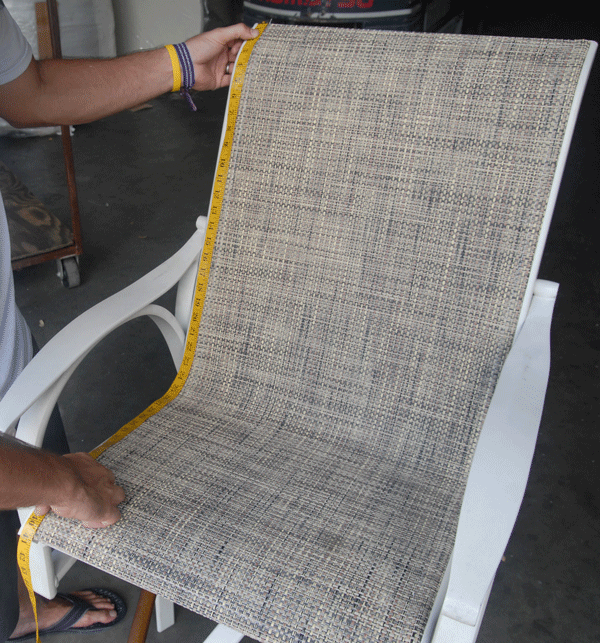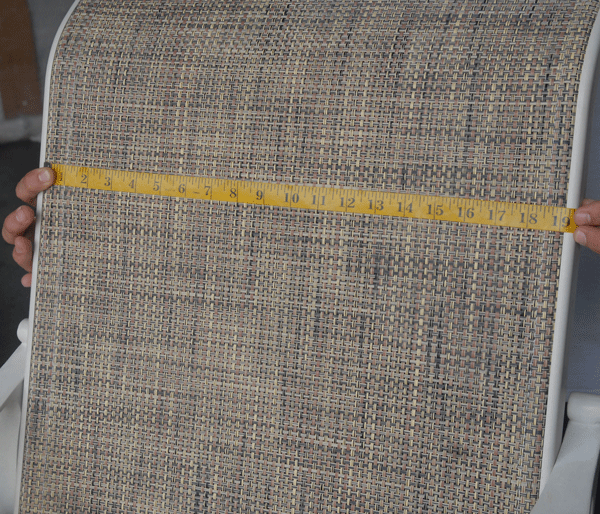 The length should be measured along the side rail of the chair with a cloth measuring tape, making sure not to leave any slack and to stay accurate and flush with the rail on all curves/bends on the chair.
When measuring the width, it is best to measure in the areas where bolts and spreader bars are attached. The width should be measured from where the fabric goes into the sling, rail to rail of the chair frame (example below). Be sure to measure 4-5 inches down from the top of the chair frame when measuring the top width and 4-5 inches from the bottom when measuring from the bottom part of the chair due to natural flaring of many patio furniture sling rails at the very top and bottom.
The average of the 2 measurements rounded to the nearest 1/8th inch will be your sling width. All furniture measurements should be taken from the front of the chair.
When taking measurements of your sling furniture, make sure to gather measurements from several of your sling chairs in the set to make sure there are no random size variations.
Replacement Slings made from custom specifications are non-refundable and non-returnable so please provide accurate measurements when placing an order. Any slings that do not fit (ex. too loose) can be sent back for tightening if needed.
Do not alter or add any adjustments to your measurements. We will add any necessary seems and material necessary for a perfect fit!