Homecrest Patio Slings
Homecrest Patio Slings | Homecrest Replacement Slings | Homecrest Patio Sling Repair
Homecrest Palisade Steel Outdoor Furniture Sling Replacements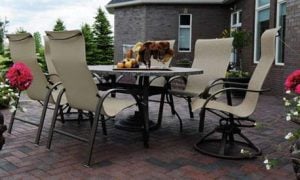 We offer 126 high quality indoor/outdoor replacement sling furniture fabrics for Homecrest style Sling Furniture made of the highest quality threads and materials all made in the USA providing you with the longest lasting, highest quality replacement slings to withstand even the toughest of conditions and hold up to the endless outdoor variables that can damage your furniture and fabric including UV resistance in every fabric to feel your fabric color rich season to season! Some of the popular sets we make replacement slings for are the Homecrest Havenhill patio sling collection, Homecrest Palm Bay Patio Sling Set, Homecrest Palisade Outdoor Furniture Set, Homecrest Kensington Patio Sling Set and plenty of other Homecrest Sling Furniture Collections!
Homecrest Replacement Sling Pricing
Homecrest Chair Sling

– $37.99
Homecrest (2 piece) Chair Sling

-$37.99
Homecrest Ottoman Sling

– $22.99
Homecrest Recliner Sling

– $61.99
Homecrest Chaise Sling

– $75.99
Homecrest (2 piece) Chaise Sling

– $75.99
Homecrest Loveseat Sling

– $75.99
Call 866-278-6708 to order Tropitone slings!